Kenny Cox Sr.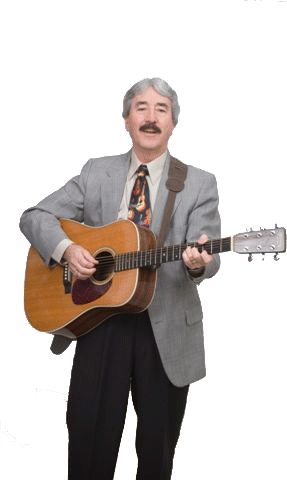 Kenny Cox Sr. is the lead singer with Sunnyside. He is originally from West Virgina. As Bob "Red" Roberts our former banjo player, liked to point out, "as far south in West Virginia as you can get!" Kenny was born outside Hinton at a little place called Pipestem, between Hinton and Princeton. It's pretty far south Bob! Kenny was raised in the country, by his grandparents, on a 200 acre farm at Ellison Ridge WV, where there was plenty of work to keep him busy.
Kenny always liked music, and listened to Nashville and Wheeling almost every Saturday night, but never started learning to play music until sometime in his late teens. Both of his grandfathers sang well. He would listen to them sing as a boy. His grandfather Ellison sang bass and his grandfather Cox sang tenor. In the Baptist church They would use a pitch pipe to get the note and then start singing individual parts. They used no instruments in the Baptist church.
Kenny didn't want to be a farmer or a coal miner so he left the farm for the big city. He started playing music a couple of years after moving to Pennsylvania. He met some people at Sunset Park in Oxford, PA. He would go there sometimes to hear Flatt and Scruggs or Reno and Smiley. That was in early 60's.
Kenny had grown up in the Baptist church in WV, knowing about God but not knowing God. He made a personal commitment to the Lord and accepted Christ as Savior in 1962. Shortly afterwards, through the friends that he met at Sunset Park, he started singing Gospel Music. He has been singing since that time on a part time regular basis. He started playing Bluegrass Gospel in 1968. Before that he played in various Country Gospel Groups.
Kenny was really turned on to Bluegrass after hearing those groups play. Kenny met Red Roberts at Sunset Park in the early 1960s. He played with several Country Gospel Bands before joining a Bluegrass Gospel Band The Kings Countrymen in the early 70's. After that band broke up in 1975, Kenny and another Countryman Tracy Rice started a Bluegrass Gospel Show on WAWZ in Zarephath NJ, where the theme song was Keep on the Sunnyside. Kenny and Tracy started Sunnyside Bluegrass Gospel. Tracy was Sunnyside's first mandolin player and baritone singer. Red Roberts joined as banjo Player and tenor singer, and Kenny Cox Jr. played bass. Kenny Jr. was 14 years old. Sunnyside's first engagment was at The Holiday Inn, Kulpsville Pa. in December 1976.
Kenny worked for AT&T before early retirement in 1989. He worked for  Cingular Wireless In King of Prussia as a systems specialist in the cellular business from 1990 until retiring in 2003. Kenny drove a school bus for Brightbill Transportation until 2018. Kenny lives with his wife Jane in Bowmansville, Pa (Lancaster County).